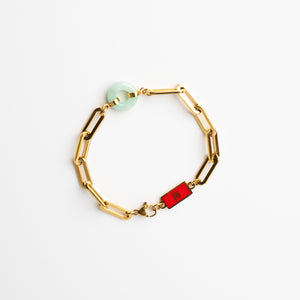 Happiness & Wealth Bracelet
Sale price Price $74.00 Regular price
This year, give yourself the gift of prosperity and good fortune with this limited-edition bracelet.

Crowned's jade crystal is said to bring good luck and fortune, and we think it's the perfect way to start the new year.
14k gold plated on handcrafted stainless steel (our most durable piece)
Authentic jade crystal
Enamel tag: 財 (wealth, money)
View our bracelet sizing guide to make sure you order the perfect piece for yourself.
Product Disclaimer: Please note that the color of the jade stone may vary. The exact shade and intensity of the jade color may differ from the product images or descriptions due to factors such as natural mineral deposits, lighting conditions, and individual stone characteristics.