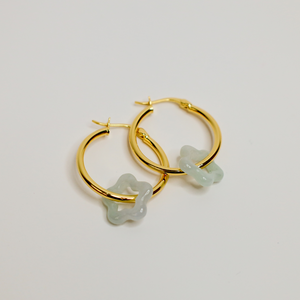 Blossoming Future Earrings
Sale price Price $64.00 Regular price
Get yourself the Blossoming Future Earrings for a look that exudes timeless charm.
These 14k gold plated hoop earrings are handcrafted from 925 sterling silver and adorned with an authentic jade flower-shaped pendant. They signify beauty, grace, and the potential of the future combined with classic elegance.
Crowned's jade crystal is said to bring good luck and fortune, and we think it's the perfect way to start your day.
14k gold plating on handcrafted sterling silver
Hypoallergenic
Authentic jade crystal

Product Disclaimer: Please note that the color of the jade stone may vary. The exact shade and intensity of the jade color may differ from the product images or descriptions due to factors such as natural mineral deposits, lighting conditions, and individual stone characteristics.