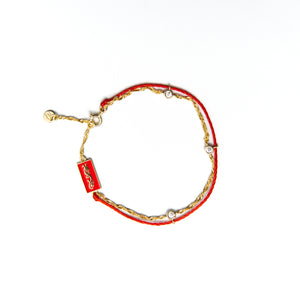 Dragon Red String Good Luck Bracelet
Sale price Price $64.00 Regular price
As part of the 2024 Wealth & Prosperity Collection, we've made some special tweaks to the original Red String Good Luck Bracelet!
2024 is the Year of the Dragon, and we want to honor the extraordinary year!
According to the Chinese horoscope, this remarkable year will bring a wave of luck, wealth, and power. With magnetic personalities, exceptional leadership skills, and irresistible allure, it's the perfect time for new beginnings and long-term prosperity for all 12 Chinese zodiac signs.
Stay grounded and protected with our Dragon Red String Good Luck Bracelet.

The tradition of wearing a Red String bracelet is tied to many cultures and religions. For Buddhists, the bracelet represents protection, faith, and good luck.
While we created our own modern twist on this symbolic piece to provide much more than just accessorizing, remember that it's to be worn as a reminder of all the good things to come. 
14k gold plating on a 925 sterling silver twist chain
Fits wrist size 6.5" - 7.5" (adjustable)
Waterproof wax red string
Enamel tag: Dragon
View our bracelet sizing guide to ensure you order the perfect piece for yourself.