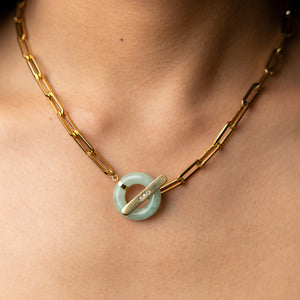 Fortune's Link Necklace
Sale price Price $84.00 Regular price
Discover the everlasting allure of our Fortune's Link Necklace.
Meticulously designed with sturdy stainless steel and bathed in radiant 14k gold, this streamlined paperclip chain necklace is elegantly fastened with a premium jade toggle clasp, enhancing its refined charm.
Infused with symbolic wealth and fortune, this necklace is an emblem of strength, protection, and luck, making it more than just a jewelry piece—it's a wearable symbol of prosperity
Materials:
14k gold plated on handcrafted stainless steel (our most durable piece)
Authentic premium jade - 22mm diameter
3 AAA cubic zirconia stones
Length: 18 inches
Product Disclaimer: Please note that the color of the jade stone may vary. The exact shade and intensity of the jade color may differ from the product images or descriptions due to factors such as natural mineral deposits, lighting conditions, and individual stone characteristics.