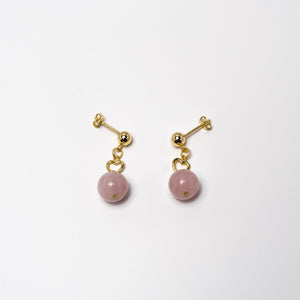 Glow Getter Rose Quartz Earrings
Sale price Price $54.00 Regular price
Introducing the Glow Getter Rose Quartz Earrings, designed to bring confidence and beauty to your everyday look.
These earrings are crafted using only the highest quality materials - Genuine rose quartz, 925 sterling silver, and 14K gold plating for that extra hint of luxury.

Rose quartz is known for its healing power and ability to bring calmness to those who wear it. With delicate pink hues, this mesmerizing stone is said to restore trust in love while promoting self-acceptance and restoring harmony within relationships – both with yourself and others. Wear these earrings as an ode to inner strength, increasing your confidence both inside and out.
Genuine Rose Quartz (10mm)
Sterling Silver
14k gold plated